Description
Unique Hummingbird Feeder Designed For Clear View Window Bird Feeder with Suction Cups!
We will  show you below the most features and benefits of our window bird feeder house.This Hummingbird Feeder is new and high quality Made of 100% Clear and Sturdy Acrylic by JAMARUK®.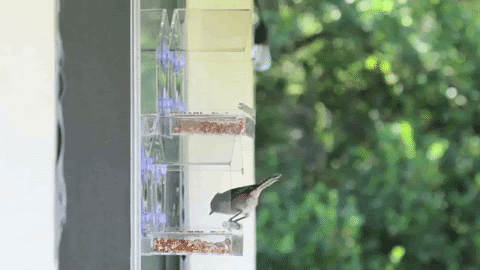 We have been making these great feeders for 12 years now and our hummingbird feeders have stood the test of time. The Hummingbird Feeder works better than any other feeder because we use transparent window that allows the hummingbirds to visually locate the nectar like they do when they look into a flower. The unique design of our Hummingbird feeder allows you to watch hummingbirds using their beaks and tongues within our hummingbird feeder so you can actually see the feeding process happen.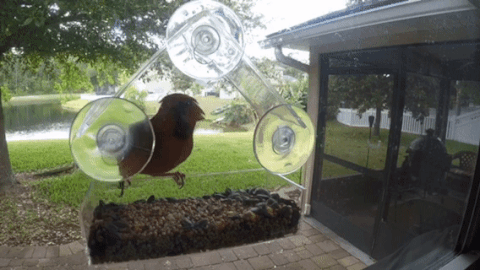 This functional and stylish Window Bird Feeder will provide fresh dry seed for a variety of birds. It's house-shaped top keeps the seeds dry and the acrylic design makes it impossible for squirrels to hold their grip on this feeder.
Our Hummingbird Feeder works great to attract finches, cardinals, blue jays, robins, and doves.
Extra strong and durable : Extra strength suction cups will last in any storm or weather
Looks great in : Balconies, patios, gardens, apartments, homes
Don't have to worry about seed staying wet inside these birdhouses. We made drain holes in the tray and main feeder so seed can properly dry.
THESE ARE SOME ANSWER FOR THE MOST POPULAR QUESTIONS WE RECEIVE FROM OUR CUSTOMERS:
Do the seeds stay dry when it rains?

The domed rood serves 2 purposes - discourage squirrels and protection from the elements. as long as you don't have gust coming in sideways to the bird feeder, the feed stays dry.The Birds-I-View has a feed tray with small holes, so even if the feed gets wet, there should be enough air circulation to dry the feed and preventing mold build up.
Can you hang the feeder from a branch instead of installing on a window?

The bird feeder has 3 holes in the back that are used to install the suction cups. You could choose to run string or wire through the top hole to have it hanging from a tree, or to screw 3 screws in to the tree trunk and hang the feeder on the screws.It will still come off easily for cleaning.
Would pigeons go in this feeder?

Yes they would if you gave them the kind of seed pigeons prefer.
The feeder is 10" by 10". Easily large enough a pair of pigeons.
If i place this in a high-traffic window (like my kitchen sink window), will that discourage the birds from landing? should i find a more "quiet" spot?

Hi!
Birds eventually get used to movement behind windows. If you place it in a high traffic area it just means that it will take longer for the birds to get accustomed to all the movement. But they will eventually get used to it. It's just a matter of patience.
Package Included:
1 X BIRD FEEDER