Description
SANITIZE YOUR POOL, AND ENJOY SAFER SWIMMING TIME WITH FAMILY

NO MORE ALGAE.KEEP YOUR POOL CRYSTAL CLEAR.
Get a cleaner swimming experience 

If you got a sensitive skin and chlorine is no good for you, Solar-Powered Pool Ionizer is definitely a practical solution for you! It uses copper ionization that lessens chlorine up to 85%, plus it kills algae before it form and take over your pool.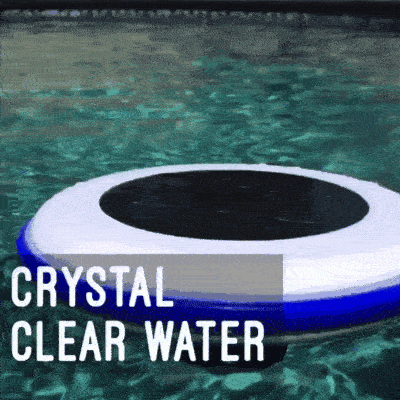 Powered by environmental friendly solar panels
It's safe, effective and a healthy option for treating different pool types, Spas, Saltwater and even drinking water.
You can now use fewer and smaller amount of chemicals in your pool with this pool lonizer. Below are some more benefits and details:
Softer Water: Ion-sanitized water is silky soft. It's gentle on skin and hair, so no more dry, itchy skin and stiff hair. It shouldn't irritate your eyes as well as improves water chemical levels.
Less Need for Chlorine: You will still need some chlorine to supplement your pool ionizer. However, it wold not be as much as you need when you sanitize your pool with chlorine alone.
Nontoxic Minerals: The metal ions produced by the pool ionizer contain low levels of copper and silver which are harmless, even if someone accidentally swallows pool water.
DEVELOPS A CLEAR POOL WITH SOLAR POWER:

 Finally, you can have a beautifully blue pool, without the maintenance! The magic behind this automatic pool cleaner is the ions it creates to destroy growth in your pool ALL from Solar Power!
USE 80-PERCENT LESS CHLORINE AND SAVE EVERY YEAR

: With less chlorine & shock, this solar pool ionizer will pay for itself. Put money back into your pocket by transforming your pool into a biologically healthy & growth-resistant water!
NO HARMFUL CHLORINE, ENDS BLEACHED CLOTHES & HAIR: Invest in your family's health & use a chlorine-free shock! Your kids will certainly thank you for the switch because they won't have to worry about dry & red eyes or having their clothes bleached!
SAVES YOU TIME, REDUCES BRUSHING & CLEANING: When you get home from work, you can finally relax IN your pool instead of cleaning the algae. It can handle pools up to 22,000gal. 
THESE ARE SOME ANSWER FOR THE MOST POPULAR QUESTIONS WE RECEIVE FROM OUR CUSTOMERS:
Will this stain my plaster pool?
No. The unit produces ions in the water. There is no possibility of a stain occurring.
How do you know if it is on?

It uses the sun rays. You test the water to check the copper levels.

How long does it work with no sunlight?

Once the copper level is up in your pool you can take it completely out if you wish & keep checking copper levels but......I leave mine in 24/7
How do you know how much chlorine to use?

You should continue to monitor chlorine levels and keep at least 1-2 ppm in pool. With this device, the chlorine in your pool will last much longer so you won't have to add chlorine as often. Typically just need a few chlorine tabs in a floater to maintain levels.
Package Includes:

1 X Pool Ionizer