Description
UNIQUE HUMMINGBIRD FEEDER DESIGNED TO ATTRACT MORE HUMMINGBIRDS TO YOUR BACKYARD
We have been making these great feeders for 34 years now and our hummingbird feeders have stood the test of time. The Hummingbird Feeder works better than any other feeder because we use hexagonal raised diamond geometry of ports that allows the hummingbirds to visually locate the nectar like they do when they look into a flower. The unique design of our Hummingbird feeder allows you to watch hummingbirds using their beaks and tongues within the tube so you can actually see the feeding process happen. 


The hummingbird feeder has been finally perfected.
 This feeder is extremely easy to fill and clean and by using hexagonal raised diamond geometry of ports we can prevent bees from taking over the feeder which makes it even more desirable to your hummingbirds.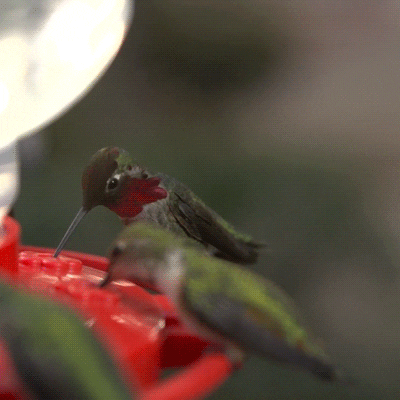 Clear design and a clear view 

- The bright clear tube avoids the need to add dye to the mixture and gives the birds a comfortable place to rest while also providing an unobstructed view of the bird.
 Hummingbird Feeder With Perch And Built-in Ant Moat
Each feeder has a 12 ounce capacity for Nectar


Unique filling system (simply pour sugar and water in to correct levels) no outside measuring

30 feeding ports (like real-life flowers)
With handle

 - Easy to carry, ideal for outdoor birding.
This feeder is unquestionably the best hummingbird feeder in the market.
THESE ARE SOME ANSWER FOR THE MOST POPULAR QUESTIONS WE RECEIVE FROM OUR CUSTOMERS:
How do you fill the tube feeder?

It is slightly different from another tube feeder. The top of the test tube mouth of the feeder can be removed, and after filling it with food, it can be closed to wait for the arrival of hungry hummingbirds.

I'd that black piece around perimeter of unit a perch where birds can light?

Hummingbird Feeders suitable for Outdoors, Deck, Patio, Garden, Yard. The Hummingbird Feeders convenient for any place where it can be hung and bound. It is suitable for all the bird's habitats.

Do i need to wash this (new) feeder before using it? what should i wash it with? i've heard no soap/detergent.

I have used these feeders for over eight years. I rinse feeders out when I receive them, and I change feed every 3-4 days. Cleaning is done by putting small amount of Dawn liquid detergent on all parts of feeder, scrub gently with brush, and thoroughly rinsing with water until all odor and bubbles have been removed. Then fill with homemade hummingbird solution: 3/4 cup granulated sugar to 3 cups of water, stirred, and heated until just before it boils, then allowed to cool. That's it. This feeder is great and is extrely easy to maintain.