Description
Are You Concerned About Your Pets Drinking Water Quality?
Our Pet Water Fountain is designed to provide a continuous stream of filtered water and thanks to its interactive flow it encourages your pets to drink more water.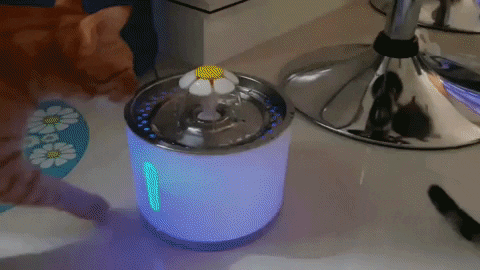 Did you know 1 in 3 cats will suffer from kidney disease at some point in their life. Kidney diseases normally do not become noticeable until their advanced level.
Our Cat Water Fountain provides water which is filtered using our 3-layered water filter to provide clean and pure water to help your cats against potential kidney diseases. 
This Cat Water Fountain has 3 water flow settings to choose from which allows you to choose the right flow to interact with your pet so they are encouraged more water.
The tray is made of SUS304 food grade stainless steel and processed by wire drawing process to ensure it has long lasting protection against acid and corrosion. The stainless steel tray is also sturdy and durable.

Pet water fountain can be easily spotted by your pet regardless of day or night. LED window can also be used to observe water levels.

Our Pet Water Fountain is equally popular among cats and small dogs due to its interactive design. It also has large 2.4 litres water capacity.
 Product Dimensions :
How To Use It:

Product Specifications:
Material: Stainless Steel
Weight: 0.6-0.9 kg
Capacity: 2.4L/80 Oz
Power Supply: DC 5V 1A
Power: 1.5W
What's in the package:
1 x Pet Water Fountain
1 x USB charger

1 x Charcoal & Ion Exchange Resin Filter